Talis Biomedical Corporation Expands in Chicago at Trammell Crow Company's Fulton Labs at 1375 W. Fulton
01/26/2021
The new tenant marks the third life science firm to sign a lease at Fulton Labs campus in less than six months.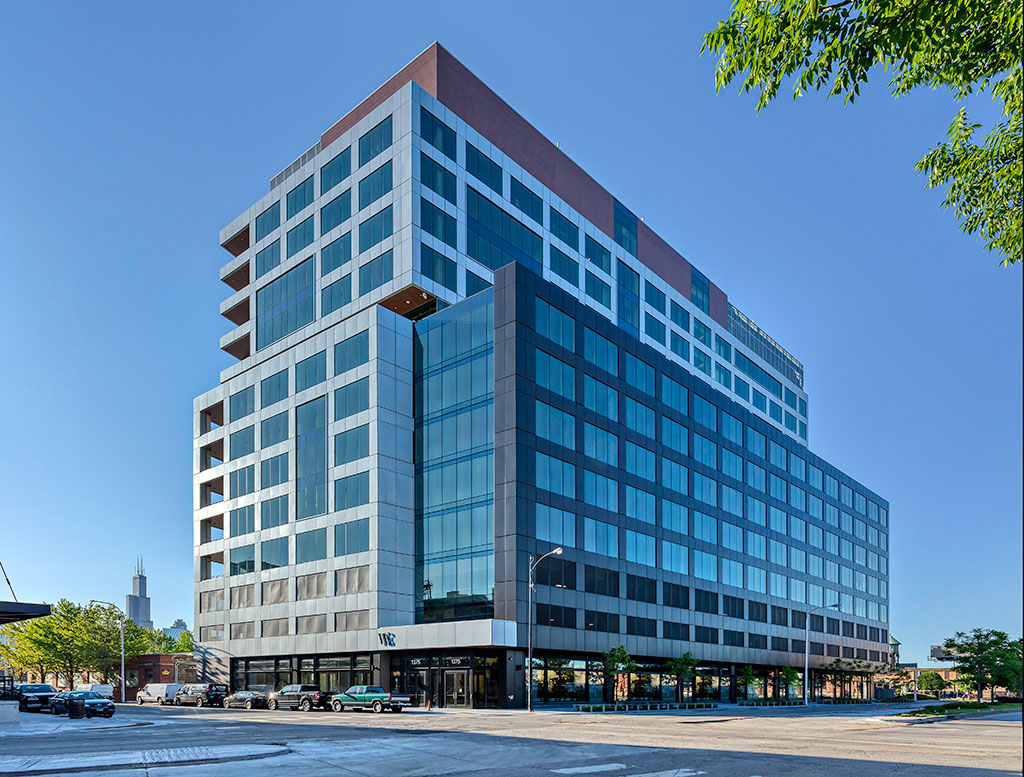 CHICAGO — January 26, 2021 — Trammell Crow Company (TCC), one of the largest commercial real estate developers in the United States, today announced that it has signed Talis Biomedical Corporation as a tenant at its Fulton Labs at 1375 W. Fulton development. Talis will join other leading life sciences companies, including Xeris Pharmaceuticals and Portal Innovations, that call Fulton Labs home.
Talis, represented by David Saad and Chad Freese with CBRE, will occupy 26,432 square feet of advanced lab, office and chemical storage space. The new lease expands Talis' presence in Chicago and complements their current operations in California.
Fulton Labs at 1375 W. Fulton is part of TCC's 725,000-square-foot Fulton Labs campus —offering the most advanced lab spaces with next-generation technology and invigorating amenities for health and life sciences companies in Chicago's Fulton Market neighborhood. The campus is comprised of the 300,000-square-foot building at 1375 W. Fulton and a 425,000-square-foot building nearby at 400 N. Aberdeen, which broke ground in July 2020. TCC anticipates the latter best-in-class laboratory facility to be complete by early 2022.
"We made the decision to bet on Chicago because we knew how incredible the depth of life sciences talent and demand for advanced R&D lab space was in the area," said Johnny Carlson, Principal at TCC "With Fulton Labs, our goal is provide the infrastructure needed to retain and attract life sciences talent to this region. With more than 82,000 square feet leased in just the last six months of otherwise sluggish market activity, it is clear that we are providing Chicago a prime destination for life science innovation."
Chicago's abundance of major research institutions, universities and Fortune 100 life and health sciences companies provides the region with an incredible talent pool, making it a hotbed for investment and innovation. According to CBRE research., over the past three years, Chicago has had the largest percentage increase in life sciences venture capital of any major U.S. market. These factors have fueled major growth in the Chicago life sciences industry, along with demand for lab space in the region.
TCC selected CBRE's leading Life Sciences Leasing Team to support its development team in marketing Fulton Labs for lease. For all campus leasing inquiries, contact Dan Lyne at Dan.Lyne@cbre.com or Kelsey Scheive at Kelsey.Scheive@cbre.com
About Talis
Talis is dedicated to transforming diagnostic testing by developing and commercializing innovative products that are designed to enable accurate, low cost and rapid molecular testing for infectious diseases at the point-of-care. The company is developing the Talis One™ platform, a compact, sample-to-answer, cloud-enabled, molecular diagnostic solution. Talis is headquartered in Menlo Park, California. For more information, please visit talis.bio.
About Trammell Crow Company
Trammell Crow Company (TCC), founded in 1948, is one of the nation's leading developers and investors in commercial real estate. The Company has developed or acquired 2,700 buildings valued at nearly $65 billion and over 590 million square feet. As of September 30, 2020, TCC had $14.8 billion of projects in process and $5.9 billion in its pipeline. It employs more than 550 professionals in the United States and the United Kingdom.
Trammell Crow Company's teams are dedicated to building value for its clients with professionals in 18 major cities throughout the United States and London. The company serves users of and investors in office, industrial, retail, healthcare, multi-family residential, through its operating subsidiary High Street Residential, and mixed-use projects. For those who occupy real estate, TCC can execute the development or acquisition of facilities tailored to meet the needs of its clients. For investor clients, the company specializes in joint venture speculative development, acquisition/re-development ventures, build-to-suit development and providing incentive-based fee development services.
TCC is an independently operated subsidiary of CBRE Group, Inc. (NYSE:CBRE), a Fortune 500 and S&P 500 company headquartered in Los Angeles, and the world's largest commercial real estate services and investment firm (in terms of 2019 revenue). For more information visit www.TrammellCrow.com.
Media Contacts
Elise Maguire
Trammell Crow Company
(908) 216-6785
emaguire@trammellcrow.com
Bill Rader
CG Life
(312) 318-7054
brader@cglife.com