Trammell Crow Company Breaks Ground on Fulton Labs Development
07/29/2020
The best-in-class laboratory facility will help solve Chicago's chronic lab space shortage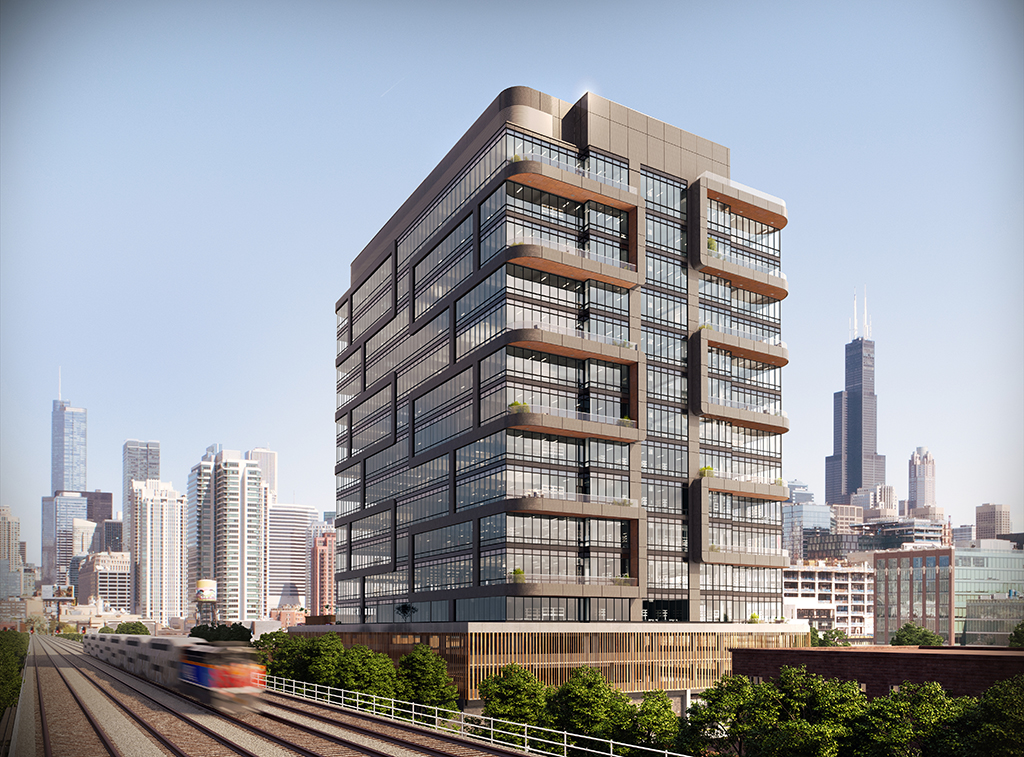 CHICAGO — July 29, 2020 — Trammell Crow Company (TCC), one of the largest commercial real estate developers in the United States, today broke ground on Fulton Labs, a best-in-class laboratory facility that is being developed to help solve chronic lab space shortage throughout the Chicago region. Fulton Labs is located at 400 N. Aberdeen St., in the heart of the Fulton Market District, Chicago's fastest growing neighborhood and one of the hottest tech markets in the country.
The 423,454-square-foot facility will span 16 floors, including 12 floors of advanced wet and dry lab space. The facility is designed to offer researchers the flexibility they need with features like column-free and long-span layouts and lab space that meets VC-A vibration criteria, which is important for researchers as they strive for reproducible results. 
"Illinois is home to a massive biopharma concentration, one of the largest tech talent pools in the United States, and some of the best research universities on earth," said Governor JB Pritzker. "I'm committed to building an Illinois economy that creates jobs and expands access to prosperity – and the life science industry is a critical asset to that vision. Fulton Labs brings over 400,000 square feet of best-in-class lab facilities to Illinois, and I'm proud to welcome this expansion to our biotech ecosystem in this critical moment for innovation in the life sciences and healthcare." 
Chicago's life science sector is prime for growth with its abundance of major research institutions, universities and Fortune 100 life science companies. Further, the region is home to a qualified and highly educated labor force and provides a low cost of doing business compared to other peer cities.
"We listened to the needs of the Chicago life science community when designing Fulton Labs," said Grady Hamilton, managing director of TCC's Midwest Business Unit. "From startups to established global companies, we wanted to create a space that provides the flexibility and room for growth that our prospective tenants need to expand their R&D capabilities."
Fulton Labs is a great example of the collaboration between the business and life science communities to invest and build a foundation to fuel growth in Illinois. It will be a cutting-edge facility that will nurture the scientific community and provide a home to drive innovation and discovery. To facilitate this, Trammell Crow Company has partnered with Portal Innovations, a life sciences start-up incubator founded by John Flavin, to dedicate space as a launchpad for early stage companies.
"Chicago and specifically Fulton Market, has the top-tier talent, academic institutions and infrastructure to be a premier life sciences hub" said John Flavin. "Portal Innovations will assemble these components and enable start-up companies to bridge scientific ideation and entrepreneurship to deliver breakthrough biomedical technologies and improve health and wellness."
"Chicagoland's life sciences ecosystem has long been punching below its weight," said Dan Lyne, Senior Vice President at CBRE and co-founder of MATTER and 1871. "With less than two percent vacant lab space, our Chicago-based clients have been forced to establish research and development operations on the coasts. But with this new facility, biotech innovators will have access to the world-class space their researchers deserve, at just a fraction of the cost of other top-tier markets."
CBRE is marketing the project for lease. For Fulton Labs leasing information, contact Sara Spicklemire at sara.spicklemire@cbre.com. 
About Trammell Crow Company
Trammell Crow Company (TCC), founded in 1948, is one of the nation's leading developers and investors in commercial real estate. The Company has developed or acquired 2,700 buildings valued at nearly $65 billion and over 590 million square feet. As of March 31, 2020, TCC had $13.9 billion of projects in process and $5.8 billion in its pipeline. It employs more than 550 professionals in the United States and the United Kingdom.
Trammell Crow Company's teams are dedicated to building value for its clients with professionals in 18 major cities throughout the United States and London. The company serves users of and investors in office, industrial, retail, healthcare, multi-family residential, through its operating subsidiary High Street Residential, and mixed-use projects. For those who occupy real estate, TCC can execute the development or acquisition of facilities tailored to meet the needs of its clients. For investor clients, the company specializes in joint venture speculative development, acquisition/re-development ventures, build-to-suit development and providing incentive-based fee development services.
TCC is an independently operated subsidiary of CBRE Group, Inc. (NYSE:CBRE), a Fortune 500 and S&P 500 company headquartered in Los Angeles, and the world's largest commercial real estate services and investment firm (in terms of 2019 revenue). For more information visit www.TrammellCrow.com.
Media Contacts
Elise Maguire
Trammell Crow Company
(908) 216-6785
emaguire@trammellcrow.com
Bill Rader
CG Life
(312) 318-7054
brader@cglife.com