New 405,000-SF Development to Help Researchers and Business Executives Make an Impact on Human Health With Best-In-Class Laboratory and Life Sciences Office Space In One Of The World's Most Sought-After Neighborhoods

34,000 SF to Be Dedicated to Early-Stage Companies, Shared Lab Space to Foster Growth and Encourage Collaboration Among Life Sciences Industry Leaders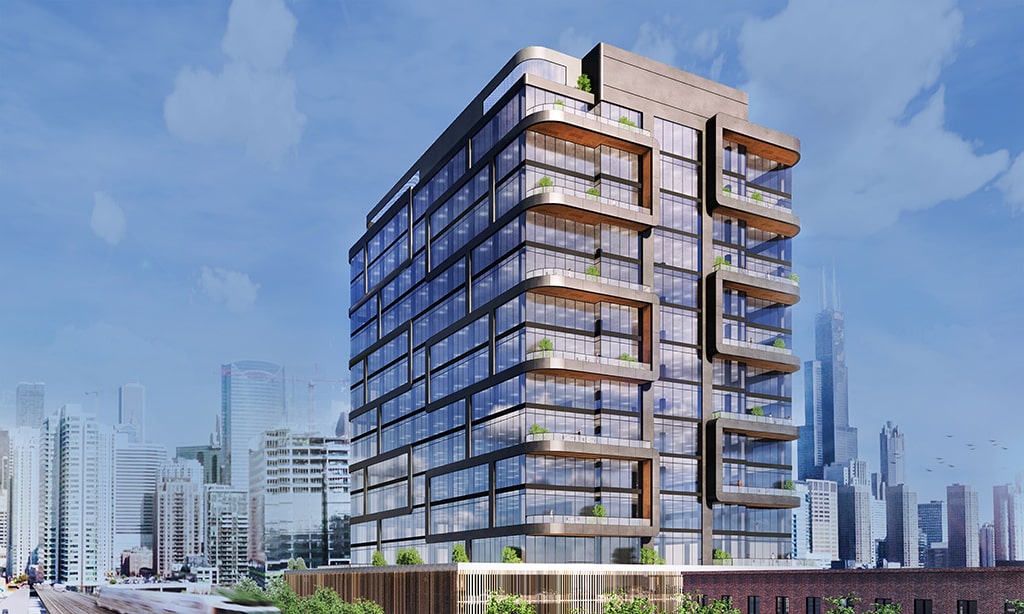 CHICAGO — January 9, 2020 — Trammell Crow Company (TCC), one of the largest commercial real estate developers in the United States, is developing Fulton Labs, a best-in-class life sciences laboratory and office building in Chicago's Fulton Market neighborhood. The new 405,000-square-foot facility will help solve a chronic lab space shortage throughout the Chicago region. TCC will break ground on the new facility in spring of 2020 and will deliver to new occupants during Q4 2021, with occupancy beginning Q1 2022. CBRE is marketing the project for lease.
Fulton Labs will be located at 400 N. Aberdeen St., in the heart of the vibrant Fulton Market neighborhood. Designed to the highest possible laboratory standards by some of the world's most respected life sciences architects, lab designers, and engineers, the facility will add an influx of life science talent to the already tech-rich Fulton Market community.
"Fulton Labs will be a place where researchers and tech innovators alike will want and deserve to be," said Dan Lyne, senior vice president of CBRE and board director for the Illinois Biotechnology Innovation Organization (iBIO). "By building a best-in-class, collaborative life sciences environment in one of the world's most sought-after neighborhoods, we're offering companies of all sizes and from all environments the opportunity to drive innovation and accelerate commercialization."
TCC designed Fulton Labs with today's researchers in mind, offering flexibility, scalability, and innovation. The building's column-free, long-span layout enables flexible bench planning and easy reconfiguration as research needs evolve. All lab spaces are designed to achieve VC-A vibration criteria, helping to enable reproducible results even with the most sensitive lab equipment. Designed for LEED Silver and Wired Gold certifications, and with the industry's most stringent safety specifications, Fulton Labs delivers superior connectivity and infrastructure. Tenant amenities include balcony accessibility, a rooftop lounge and patio, and fitness and conferencing centers, providing comforts designed to encourage engagement with others and their surroundings. With panoramic views of the Chicago skyline, Fulton Labs is a rare "lab with a view."
To encourage collaboration between established life sciences companies and early-stage companies, Fulton Labs will dedicate one floor toward a shared lab and office environment with the flexibility start-ups need and in a location that provides significant visibility for potential partners.
"Dedicating a floor to support early-stage life science companies with shared lab, computing and office space, along with entrepreneurial programming, will be instrumental in fostering collaboration between start-ups, corporate partners and venture capitalists," said Chicago life sciences entrepreneur and investor John Flavin, who is consulting on the project. "This dynamic space will be catalytic for emerging start-ups leveraging Chicago's converging strengths in data analytics and life sciences."
In 2019, Chicagoland was ranked as one of the top-ten U.S. life science clusters by Genetic Engineering & Biotechnology News. The Chicagoland region has a vibrant life sciences community, including more than 180 pharmaceutical companies; 30 global medical device companies; 20 top-ranked hospital systems; more than 30 leading contract research and contract manufacturing companies; and world-class research institutions including the University of Chicago, Northwestern University, and the University of Illinois.
"The Life Science industry has experienced explosive growth in the few core U.S. life science clusters, particularly Boston and the San Francisco Bay Area, over the last few years. Biotech is a few years behind traditional tech from a geographical diversity perspective, but the industry clearly needs to identify new urban alternatives for the labor that is driving the innovation," said Steven Purpura, vice chairman of CBRE. "Chicago, with its existing life science community and a geographically central urban location proximate to both coasts, is uniquely positioned to be the beneficiary of the continued growth in the biotech sector."
"Fulton Labs offers the best of all worlds for life sciences companies—a flexible laboratory facility built to the very highest standards in a vibrant neighborhood loaded with tech talent and at a reasonable cost," said Sara Spicklemire, a senior vice president with CBRE. "It's the reason some of the world's biggest and most respected tech companies are making major investments in Fulton Market, which will continue to foster innovation in the neighborhood."
For Fulton Labs leasing information contact Sara Spicklemire at sara.spicklemire@cbre.com.
About Fulton Labs
Fulton Labs is a 405,000 square-foot, best-in-class life sciences laboratory and work environment located in Chicago's Fulton Market, one of the world's most sought-after neighborhoods. Engineered with the highest laboratory and R&D standards, Fulton Labs is equipped with next-gen laboratory technology and infrastructure and designed for ultimate space flexibility to easily evolve and expand as research needs evolve. Built for ultimate collaboration between established and early-stage companies, including a full-floor, dedicated, shared-lab environment, the facility is built to accelerate groundbreaking research today and create a solid foundation for the life sciences industry of tomorrow. For more information visit fultonlabs.com.
About Trammell Crow Company
Trammell Crow Company (TCC), founded in 1948, is one of the nation's leading developers and investors in commercial real estate. The Company has developed or acquired 2,700 buildings valued at nearly $65 billion and over 590 million square feet. As of March 31, 2020, TCC had $13.9 billion of projects in process and $5.8 billion in its pipeline. It employs more than 550 professionals in the United States and the United Kingdom.
Trammell Crow Company's teams are dedicated to building value for its clients with professionals in 18 major cities throughout the United States and London. The company serves users of and investors in office, industrial, retail, healthcare, multi-family residential, through its operating subsidiary High Street Residential, and mixed-use projects. For those who occupy real estate, TCC can execute the development or acquisition of facilities tailored to meet the needs of its clients. For investor clients, the company specializes in joint venture speculative development, acquisition/re-development ventures, build-to-suit development and providing incentive-based fee development services.
TCC is an independently operated subsidiary of CBRE Group, Inc. (NYSE:CBRE), a Fortune 500 and S&P 500 company headquartered in Los Angeles, and the world's largest commercial real estate services and investment firm (in terms of 2019 revenue). For more information visit www.TrammellCrow.com.